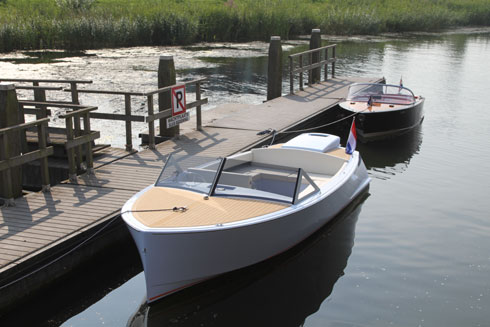 Het ontwerp van de Dutch Runabout 22 is geïnspireerd op traditionele houten speedboten als de Riva, de Boesch en de Hacker. Dit is terug te vinden in het klassieke lijnenplan met de zogenaamde tumblehome, waarbij het dek aan de achterzijde smaller is dan de romp. Andere klassieke kenmerken zijn de karakteristieke voorruit, de motor die geheel aan het zicht is onttrokken en de comfortabele kussens van kunstleer.
De Dutch Runabout 22 is geen sloep en ook geen speedboot zoals we die kennen. Wij noemen haar liever een 'runabout', een boot waarmee je er op uit trekt.
Runabout: "A small motorboat holding between four and ten people, well suited to moving about on the water. Runabouts can be used for racing, for pleasure activities like fishing, sun bathing and water skiing, or as a ship's tender for larger vessels" bron: wikipedia.